Bushnell Equinox Z 6×50 Nachtsichtgerät
Jagdfernglas / Vergrößerung 6 fach / Sehfeld in 1000 m 6 m / Objektivdurchmesser 50 mm / Einblick binokular / Gewicht 765 g / Infrarot-Beleuchtung
Highlights im Test
Gute Nachtsicht
Gute Aufnahme Qualität
einstellbare Intensität der Infrarotbeleuchtung
Bushnell Equinox Z 6×50 Nachtsichtgerät Test
Das Bushnell Equinox Nachtsichtgerät liefert eine leistungsstarke Bildqualität selbst in der Dunkelheit oder schlichtweg bei lichtschwachen Verhältnissen. An die Spitzengeräte unter den Nachtsichtgeräten reicht das Bushnell Equinox Z 6×50 im Test jedoch nicht ganz heran.
Die besten Bushnell Equinox Z 6×50 Alternativen im Vergleich
Bushnell Equinox Z 6×50 Erfahrungen
Zweifellos ist das Bushnell Equinox Z 6×50 sehr gut zur Wildtierbeobachtung geeignet, da man sich auf der Jagd dank einstellbarer Bildschirmhelligkeit und -intensität an die aktuelle Belichtungssituation anpassen kann. Im Test fällt jedoch auch auf: die Tasten hätten benutzerfreundlicher entworfen werden können. Gerade in der Dunkelheit muss man sich nämlich zunächst einmal zurechtfinden.
Nachtsichtgerät Bushnell Equinox Z 6x50 - TEST (Dachs)
Hier wurde ein Dachs auf 30-45m Entfernung gefilmt mit deNachtsichtgerät Bushnell Equinox Z 6x50, man erkennt deutlich das es sich um einen Dachs handelt ...
Das Bushnell Equinox Nachtsichtgerät verfügt über ein eingebautes Mikrofon, das die gute Bildqualität ergänzt und besonders für Aufnahmen relevant ist. Tatsächlich ergibt sich hier ein großes Plus für alle, die gerne Videos von nächtlichen Expeditionen aufnehmen.
Anzumerken ist, dass durch fehlende Rasterung ein Fernglas bei Tageslicht besser funktioniert. Als Nachtsichtgerät ist das Bushnell Equinox Z 6×50 jedoch sehr ausgeglichen.
Bushnell Equinox Z 6×50 Bewertung: "befriedigend"
Das Bushnell Equinox Z 6×50 besticht durch ein gutes Preis-Leistungsverhältnis und bietet eine Menge Spielraum für die Wildtierbeobachtung oder bei der Jagd in der Nacht. Zwar handelt es sicht nicht, um ein Profi-Night-Vision Gerät, doch die Testdude Redaktion ist ganz zufrieden und vergibt die Note "befriedigend".
VERSITILE- Micro-LCD screen display shows colour images during day, and black and white at night for greater contrast. And has three adjustable image brightness levels accommodate different lighting conditions
Wifi enabled- Uploads images and video quickly to Smartphone, Tablet, oder Computer via Wi-Fi with Free App. Features USB and RCA Video Outputs
Ir-sensitive- CMOS Sensor with built-in IR illuminator with adjustable intensity
IPX4-RATED- Water resistant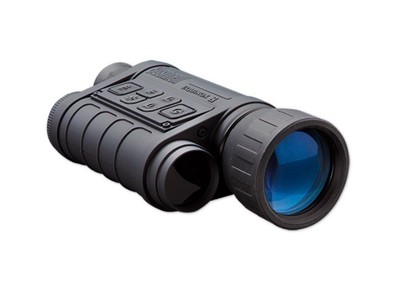 Jagdfernglas / Vergrößerung 6 fach / Sehfeld in 1000 m 6 m / Objektivdurchmesser 50 mm / Einblick binokular / Gewicht 765 g / Infrarot-Beleuchtung
| | |
| --- | --- |
| Modellnummer | 260150 |
| Vergrößerung | 6x |
| Objektivdurchmesser | 50 mm |
| Reichweite | 100 m |
| Gewicht | 0.76 kg |
| Abmessungen | 19,1 x 9,8 x 6,4 cm |
| Stromversorgung | 4 x AA |
| USB-fähig | Ja |
| WiFi | Nein |
453,65€
×
Product prices and availability are accurate as of the date/time indicated and are subject to change. Any price and availability information displayed on Amazon.com (Amazon.in, Amazon.co.uk, Amazon.de, etc) at the time of purchase will apply to the purchase of this product.
5 new from 443,75€
Bewertung
Bushnell Nachtsichtgerät 6 x 50 Equino Bewertung
Jagdfernglas / Vergrößerung 6 fach / Sehfeld in 1000 m 6 m / Objektivdurchmesser 50 mm / Einblick binokular / Gewicht 765 g / Infrarot-Beleuchtung
PROS
Gute Nachtsicht
Gute Aufnahme Qualität
einstellbare Intensität der Infrarotbeleuchtung
CONS
Tasten teils schwer erreichbar
Preisvergleich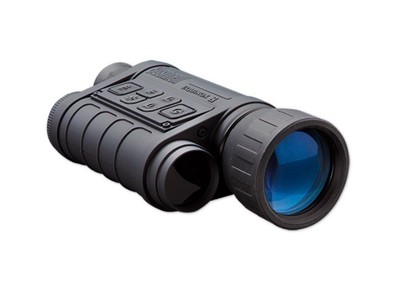 Bushnell 6x 50mm Equinox Z Digital Night Vision £399.99 Normal Price New in Retail Box with Warranty Posts via est 2-day UK Tracked Delivery or Upgrade to 1-day Express (Items paid for before 2pm normally post same day.) Features 6x Optical Magnification 6.6-18.0x Digital Zoom Range 50mm Diameter Objective Lens Fully Multicoated Optics Up to 1000ft viewing with infrared illuminator Battery Type: AA (4) Includes carrying case 1-Year Warranty Description The 6x50 Equinox Z Digital Night Vision Monocular from Bushnell uses an infrared-sensitive CMOS sensor and a micro LCD screen for its night vision capabilities, instead of a conventional intensifier tube. A built-in IR illuminator provides an effective night vision range of up to 1000'. A side rail enables accessories, like another illuminator, to be attached directly to the monocular. The screen displays color images during the day, and black and white when the night vision is on for great clarity and contrast. Enhancing the optical 6x magnification is a digital zoom to provide up to 18x magnification. Capture video with sound and still images in 640 x 480 resolution, and save them to an optional microSD card in the built-in card slot. It supports cards up to 32GB. A switch on the bottom of the monocular lets you quickly switch from video to still images. A USB port lets you transfer the files to a computer without having to remove the card. An RCA video-out port allows the live video feed to be sent to an external monitor or recording device. The status of the monocular is displayed on the LCD screen in the field of view. The icons can be disabled for an unobstructed view. Icons show battery level, zoom factor, IR and image brightness settings, if a memory card isn't detected, elapsed and remaining recording time, and the number of pictures you can take based on the available memory. Specifications Optical Performance 6x optical magnification Digital zoom from 6.6 to 18x 50mm objective lens Fully multicoated...
453,65

€
5 new from 443,75€
Auf Lager
Jagdfernglas / Vergrößerung 6 fach / Sehfeld in 1000 m 6 m / Objektivdurchmesser 50 mm / Einblick binokular / Gewicht 765 g / Infrarot-Beleuchtung
Technische Spezifikationen
VERSITILE- Micro-LCD screen display shows colour images during day, and black and white at night for greater contrast. And has three adjustable image brightness levels accommodate different lighting conditions
Wifi enabled- Uploads images and video quickly to Smartphone, Tablet, oder Computer via Wi-Fi with Free App. Features USB and RCA Video Outputs
Ir-sensitive- CMOS Sensor with built-in IR illuminator with adjustable intensity
IPX4-RATED- Water resistant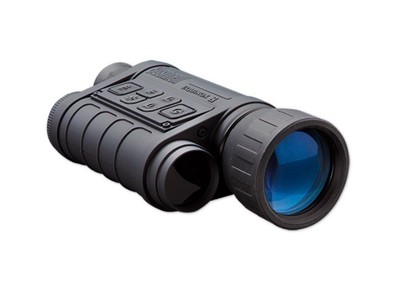 Bushnell Equinox Z 6×50 Nachtsichtgerät